Imagine yourself standing in the produce section of your favorite market knowing full well that there are certain foods that could help you feel better but you simply don't know which to choose. This is a common dilemma that many of us face, making it nearly impossible to know what we need for ourselves and our health.  But, one woman, Ms. June Pagan has tackled the quandary by creating an amazing new food book, titled Purple Earth Cuisine, which addresses the potent and extraordinary power of purple foods.
As a trained Pritikin Longevity Diet Chef/Consultant with over 20 years of experience, Ms. Pagan, who is a culinary artist sheds light on the remarkable benefits of purple cuisine.  What makes her so knowledgeable is that she has spent her entire life working in the holistic culinary arts community, focusing on the healing power of food.  In fact, early on in Ms. Pagan's career, a demand grew for her style of cooking so rapidly, she was commissioned to prepare meals for Hollywood elites.
In one of the most innovative food books ever written, Ms. Pagan takes us on a ground-breaking expedition into a secret garden of purple delights that are visually inspiring and powerfully healthy. While many of us are aware that certain colorful foods are good for our health, very few know about the significance of purple foods, yet in reality, they have been a medicinal agent for thousands of years.  What makes them so special?  They contain extremely high antioxidants, the key ingredient to healing and longevity.  For example, Ms. Pagan explains how food such as black currants and purple corn could, potentially, inhibit weight gain, decrease blood sugar levels, prevent free radicals and eliminate age-related declines. And that's only the beginning.  The special gems found in purple foods are known as anthocyanins, a somewhat obscure flavonoid that is only now gaining in popularity. The magnitude of these incredibly powerful antioxidants with anti-inflammatory and immune system benefits is off the charts.
For additional information, please visit www.purpleearthcuisine.com to learn more.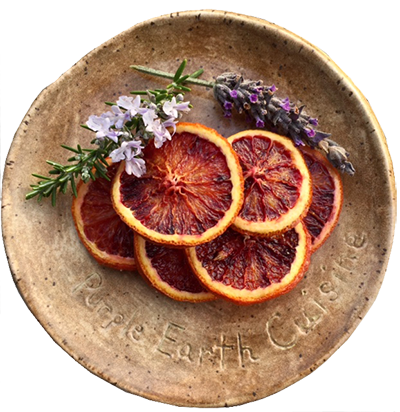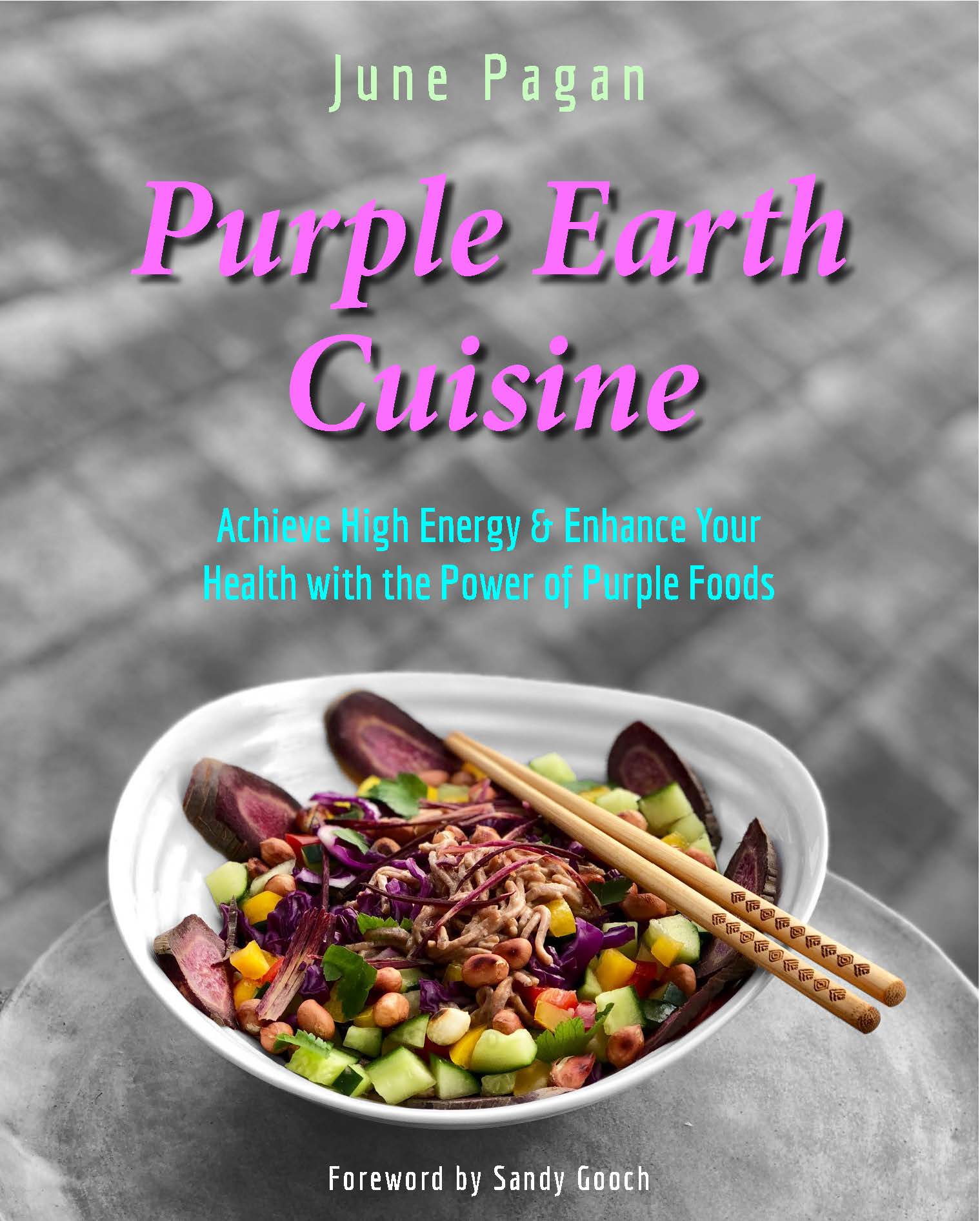 Purple Earth Cuisine Book
A rare and beautiful gem of a cookbook, Purple Earth Cuisine, is the first of its kind. With over 70 recipes of artistically prepared dishes featuring purple foods, this farm-to-table cookbook raises the bar for today's modern health kitchen. Drawing on deep roots in the California Mediterranean cuisine, June fuses traditional classics with inspired contemporary variations - root vegetable stews, historic gluten-free pseudo grain such as amaranth, quinoa, buckwheat and flaxseed, wild-caught seafood with fresh picked vegetable side dishes, traditional comfort foods with guilt-free ingredients - and filters them through a lens of cutting - edge medical research for a tantalizing, healthful food adventure of delicious and nutritious recipes.
June Pagan is passionate about educating people regarding healthy foods and providing delicious recipes using health-promoting ingredients, and she is helping us vote every day - for good health - by providing superb preparation and cooking ideas, interspersed with valuable information to keep us entertained and enlightened." - Sandy Gooch, Founder of Mrs. Gooch's Natural Foods ,a chain of natural foods markets in Southern California, that was acquired by Whole Foods Markets.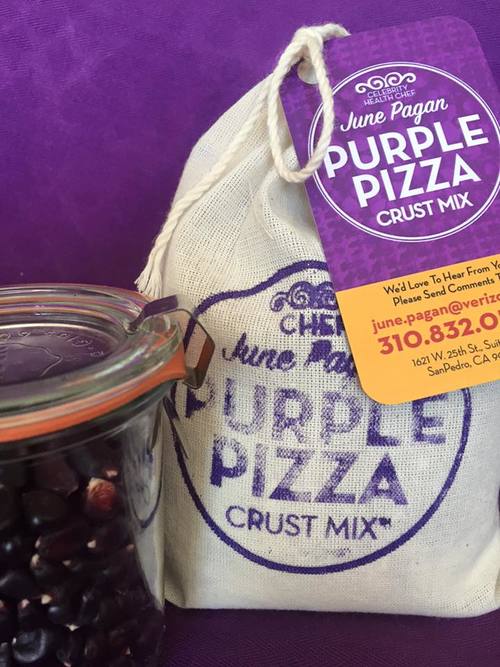 In my quest to develop a healthier pizza, I was inspired by the late Julia Child , who was a penpal of mine for many years, when she lived in Cambridge, Mass. Julia liked to use a small amount of cornmeal in her pizza crust, I always liked using semolina. One day, while testing out Suntava Organic non-GMO Purple corn flour, I decided to try adding the purple corn flour to my pizza crust. The first attempts were too heavily laden with corn and produced a heavy result. It took many tries to get it right. Right now, the formula is perfect in that it produces a New York-style thin crust that is rich in the earthy flavors of non-GMO wheat and purple corn. There is nothing commercial about this crust.
Nutritionally, purple corn, also known as Hopi Maize, has 20% more protein than white corn and a lower glycemic index. When the purple corn is milled, this process releases the niacin content producing a higher protein content than traditional wheat pizza. In addition to these benefits, the purple polyphenol called anthocyanins (which gives the corn it's dark purple color) adds an additional benefit for disease prevention.Science is supporting the dietary use of purple plants for improved health.
Hopi prophecy is that when purple corn arrives in the West it is a sign that positive things are happening on the planet. I believe that they are.Purple Pizza made with purple corn represents the trend for the removal of GMO's and man-made chemicals from our food supply and a return to simpler times.
 My ultimate dream would be to see a healthier pizza served to our children in  the LAUSD (Los Angeles Unified School District) school system and beyond.Moving away from the SAD (Standard American Diet) needs to start with our children learning to taste and feel the difference.
"June is an artist in the kitchen."
Client Testimonials
June Pagan's food is not only delicious but it's also alife saver. June listens to her clients needs and gets her food delivered to your front door. It doesn't seem to matter what allergies or dislikes one has, June will make it all perfectly yummy."
Bonnie Stoll Head Handler Trainer doe Diana Nyad
"I have known June Pagan for more than thirty years. The thing that most amazes me is her depth of knowledge about preparation, food safety, caloric content and the many ethnic foods she can bring forth with ease. June has focused on the health aspects of food for her entire career and mastered it long ago. She has a passion rarely seen by someone cooking for as long as she has. I have had the privilege of eating her creations on numerous occasions and it is a real treat. When I get rich I am going to hope to hire her to prepare her healthy food for me."
Jerry Sloan, Private Chef
June Pagan is one of the pioneers in creating well-balanced, healthy meals. She created delicious meals that helped me lose weight, bring my cholesterol down and that were  convenient for me to change my life style . My family and I have worked with June for almost 20 years and she has been more than our culinary resource, she has been our friend.
Lorraine Spurge, Maple Stone Capital
Creative, versatile and delicious are the first adjectives that come to mind, when I think of June Pagan's cooking. The list of famous clientele she's cooked for (people who could afford to pay anyone), speaks for itself. The facts are simply this: she's an undiscovered treasure that the extremely affluent were keeping to themselves. Now, it's our turn.
Master Sommelier and Author, Robert Vance Cross
"These delicious recipes crafted by noted chef, June Pagan, use simple preparation techniques designed to engage the senses with the flavors and vivid colors of freshly picked fruits and vegetables and Pagan's book could not be more timely at this time when people are becoming increasingly aware of the rise of new viruses in our environment. The recipes emphasize produce containing antioxidants which boost the immune system."
Marianne Brown, UCCE CG Master Gardener. Marianne is a public health educator and Master Gardener for several local schools in the Venice/Mar Vista neighborhoods.  Based at Mark Twain Middle School, a Title 1 school with a student population of 83% Latino,9% African-American and 8% other, Marianne is a member of the Los Angeles School Garden Collaborative. She is working with the Los Angeles Unified School District to connect school gardens and healthy food into the curriculum for middle school
"June Pagan has prepared healthy and delicious meals for my patients with Celiac Disease and Gluten intolerance. I am delighted to see that she is sharing her best gluten free recipes in Purple Earth Cuisine."
Evette Richardson, MS, RDN
"There is a great need for fantastic resources like Purple Earth Cuisine. Our organization distributes coupons to thousands of low income families at farmers markets in LA County. For many families, it's their first encounter with fresh food. There's a learning curve to becoming a fresh food shopper and cook. Purple Earth Cuisine is the one of the best tools to bring community members into the fold in a non-intimidating way. Eating healthy is for everyone. Purple Earth Cuisine should be taught in schools and delivered to home kitchens everywhere!"
Frank Tamborello, Director, Hunger Action LA
"Purple Pizza with its gorgeous photos of artistically prepared foods and fresh from the farmers' market recipes make it a must for every kitchen and an inspiration for every meal. June Pagan has included key information about nutrition and locality in the book for each recipe which connects us to how and why the ingredients we choose make a difference for healthier, more sustainable choices"
Diana Rodgers Manager Mar Vista Certified Farmers' Market
Hi, June —
I saw my doctor yesterday — and blood tests showed that my HDL, LDL numbers were normal at last— a very big change in just two months. ! He was impressed, liked the sound of our lunches and dinners. He wrote your name down, and I told him to google it and go to your website.
I can't believe this happened so easily. I want to move you to San Diego with me.
I'll see you Sunday.
From the personal assistant of Robert Wilson/ Deane
BTW…Mr. Wilson will soon be 86 and his partner, Dean, will soon be 91.
Despite Dean's dementia, he is very healthy and all his vitals are very normal.